We had an enormous amount of cards to peruse for our 'Happy Birthday' challenge and the Winner and Top 3 will be posted next weekend so make sure you follow us to never miss a post.
We have the wonderful Sarah from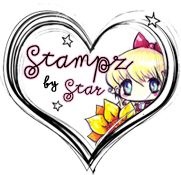 Hello! My name is Sarah though I am commonly known by friends and online as Star. This derived back from the early days when I first began signing my artwork as Stargirl (and have ever since.)
Art has has a big influence on my life and who I am. Though I have dabbled in many styles and types discovering Japanese anime and it's art style is what renewed my vigor to draw. It helps that I'm also a complete geek ~ anime, Japanese culture, books, writing, fantasy, cartoons, music, musicals, etc.