Lots of spotty/stripy cards are going to some lucky people soon. Our DT gets great pleasure from looking through your wonderful projects and I think we get as much inspiration from seeing your creations as I hope you do from seeing ours.
As usual the Winner and Favourite will be announced next weekend. Make sure you don't miss the post by becoming a follower.
For Challenge #137 we have a new sponsor. The wonderful and talented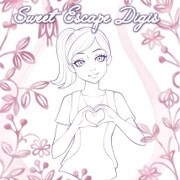 Now here is some wonderful inspiration by our talented DT. We were kindly given some images to use.
Sami using
Ella
Poppet using Pretty Flowers
I think you'll agree that the DT have done a wonderful job using their images.
I always get so much inspiration from seeing their creations and hopefully so will you. Leave your projects with the link below and if you follow our simple rules you may be in with a chance of winning the prize or being a favourite.
*FOLLOW THE THEME OF THE CHALLENGE.
*YOU MAY COMBINE THIS CHALLENGE WITH ANY OTHER CHALLENGE.
*MUST BE A NEW POST, NO BACK LINKING.
*MAXIMUM OF
2
ENTRIES PER PERSON.
*PLEASE LINK TO YOUR POST NOT YOUR BLOG.
*PLEASE LINK TO CRAFTING WHEN WE CAN CHALLENGES IN YOUR POST.
*CLAIM PRIZE NO LONGER THAN 2 WEEKS AFTER WINNER ANNOUNCED
PLEASE LINK UP YOUR CREATION BELOW IF YOU ARE ABIDING BY THESE RULES.
THANK YOU AND ENJOY CREATING! x